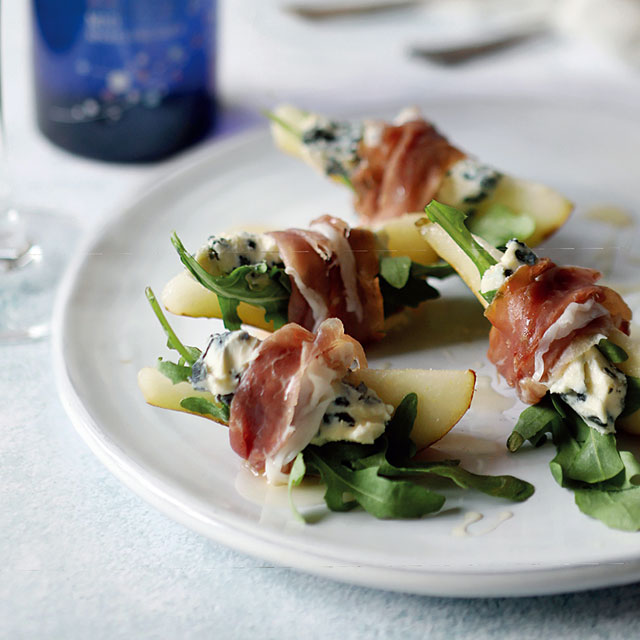 Lighting a spark among sake fans
The U.K. drinks scene is continuing its love affair with sparkling sake, thanks to the wide-ranging appeal and versatility of this fantastic fizz. Leading the market is Shirakabegura Mio Sparkling Sake – Mio for short – which is a softly acidic and deliciously refreshing sake with subtle fruit notes. Mio is low in alcohol, at just 5% ABV, and has no added sugar or sweetener. Instead, Mio's sweetness is 100% natural, the result of a careful fermentation process. All this makes Mio a great all-rounder: a brilliant aperitif that also goes well with salty and bold starters and is just as happy rounding off a meal when served alongside fresh fruit or zesty sorbets. Not to mention its versatility in sake cocktails, too.
INGREDIENTS
Makes 12
1 pear
1 tsp lemon juice
6 slices prosciutto, cut in half lengthwise
60g blue cheese, cut into bite size pieces
Handful of rocket leaves
2 tsp honey for drizzling
METHODS/STEPS
Cut the pear into 12 wedges and core. Toss with lemon juice to keep from browning.
Assemble a piece of blue cheese and a couple of rocket leaves on top of each piece of pear, and wrap with a half slice of prosciutto.
Drizzle with honey.
Additional Tips
An English classic, a Japanese twist
Shirakabegura Mio Sparkling Sake is the perfect bubbly to enjoy with a fresh and fruity dessert. Try with this simply sensational Blackberry Eton Mess for a sparkling summery treat. Add 200g blackberries, 40g caster sugar, 1 tbsp lemon juice, and 80ml water to a pan, bring to the boil, simmer on low until the fruit is soft, then blitz in a blender and strain. Whip 400ml double cream to soft peaks. Break 4 meringue nests into pieces. Divide 200g fresh blackberries among 4 glasses, then layer up with meringue pieces, blackberry purée, and double cream.
ALSO TRY
Other premium sake: Kimoto Junmai is brewed through a traditional labourintensive technique, known as kimoto, which makes this sake complex, with a fragrant and melon-rich nose that develops into a soft and medium bodied palate with a good balance of acidity. Daiginjo Muroka Genshu is a non-charcoal filtered daiginjo brewed at a cool temperature, with hints of apple and a smooth flavour. Junmai Daiginjo is a flagship product that has an exceptionally delicate ginjo aroma with a mellow banana note and a crisp finish.
WHERE TO BUY
Available at Marks & Spencer, Japan Centre, Rice Wine Shop, Hedonism Wines. Also available at various Japanese restaurants and grocery stores.